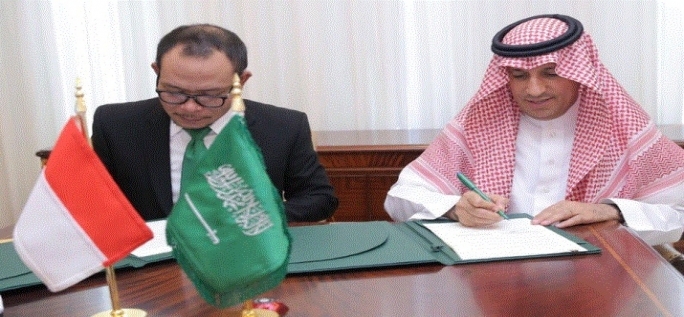 The Minister of Labor and Social Development, Dr. Ali Bin Nasser Al Al-ghufeis with Indonesian Minister of Manpower and Immigration Mohammad Hanif dhaakeri today (Monday) in the governorate of Jeddah, a record to bring the Indonesian domestic workers. During the signing ceremony, which was attended by a number of leaderships of the two ministries, and discuss ways to strengthen cooperation between the two friendly countries in the areas of labor, working mechanism to develop.
The Indonesian delegation had expressed at the beginning of the meeting, expressed his appreciation to the Government of the United Kingdom on the policies and initiatives taken by the organization bringing in immigrant employment and protection. The Saudi side presented an explanation on the steps and policies taken by the ministry of labor and social development in the kingdom to develop recruitment processes, and address the challenges that may face the operations of sending domestic employment, and improve the recruitment procedures for the benefit of the two countries. The two parties agreed, to link recruitment procedures through the electronic system (the head restraints), which guarantees the participation of data effectively between the two countries, and identify joint electronic mechanism, the adoption of the Indonesian recruitment agencies and offices of the recruitment companies, Saudi Arabia. The parties agreed, on the activation of the relevant procedures, the establishment of a labor attaché in Jakarta), and the exchange of experiences in the field of assessment of the offices of recruitment companies in the two countries.
The "previously" revealed in the report of the previous day on the arrival of the Indonesian minister of the kingdom and expected a discussion of the file of the Indonesian domestic workers.
Source :https://sabq.org/88B28AB1-A784B98584-8A888281-A7AA81A782A7-85B9-86B88AB187-A784A786AF88868AB38A-84A7B3AA82AFA785-A784B985A784A9-A7848586B2848AA9-A784A786AF88868AB38AA9